I happened upon a new-to-me blog the other day called
My Spare Time
and saw
this adorable bag
. I've seen bags similar to this lately all over the place, but I really liked the more muted fabric colors. So I emailed Sarah to find out where she got them, and guess what???? They're Tracy Porter fabrics from JOANN's! Yeah! And I'm so happy because I'm a tightwad and it's sooo hard for me spend $9 or more for a yard of fabric. And I just happened to have some birthday money from my in-laws burning a hole in my purse. And the best part? They all happened to be 30% off. So lookie-lookie at what I got: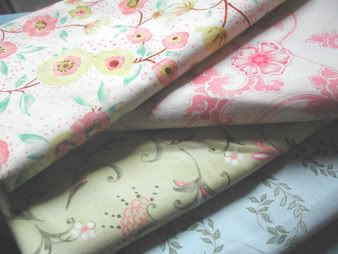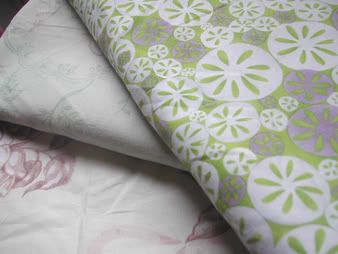 I'm not sure what I'm going to do with them. Might just have to break down and make myself a cute little Amy Butler Covington bag. I've had the pattern for quite some time now, but never found a floral fabric that really spoke to me. We'll see..... Whatever I make it'll have to be done after I get finished with all the baby quilts (4 of them now) and blockswap stuff.
I'm going to be taking a little bloggie break for the next few days, since my hubby is out of town (again!!!) and I want to be able to give my boys some extra love and attention this week. So if you don't hear from me for a few days, you'll know why. I'm fortunate that he doesn't have to leave on business trips too often, but when he does, it just makes me so sad. 14 years ago, before we were married we dated long-distance for a little over a year--this was long before email, by the way. He was teaching English in Taiwan, and I was finishing my last year of college in Michigan. We'd call each other on weekends (those phone bills were huge!) and write each other every other day. Oh, the longing, the pining, the constant feeling that something was missing. And worrying about him all the time, hoping that he was alright and not lying somewhere in a hospital bed where no one knew where to get in touch with me or his family. And now, when he goes on his trips, I still feel all that, and sometimes I guess it's a good thing. I know someone who LOVES it when her husband goes on business trips! Loves the freedom to do whatever she wants when she wants. I can't relate to that at all. Anyway, wish me luck. I'm going to have my hands full this week. And my big ole pregnant belly is making everything--leaning, reaching, lifting, walking--just a little more difficult. Only 3-1/2 months to go. I'm counting the days already!
p.s. Keith's new sentence pattern of the week: This ______ is too hard as a rock for me.
i.e. When looking in the pantry: "This vinegar is too hard as a rock for me."
When getting out of the van and spotting dad's bike: "Daddy's bicycle is too hard as a rock for me." Where does he get this stuff? What a crack up.