These are the last four blocks for the blockswap. I loved doing the two in the middle. They are definitely instant gratification blocks. You make them exactly like they look. Cut a bunch of strips, and after you sew on a strip, iron down the seams, and cut it at some random angle with a rotary cutter. Continue until you reach the desired width and then square it up. Fun times. By the way, the one on the far right is supposed to look like the beach blanket in the DS book. I'd love to have the large-scale version. Maybe someday.
My new bloggie friend Rebecca from
The Painted Pear
left a pretty neat comment on my blog yesterday. She said these blocks are like children. They're all unique but you can tell they came from the same parent. Soon, this momma will be sending these babes off into the world. So long, kiddos. Be well and make me proud!
I also wanted to mention that
colorfool creates
has started a new Flickr set for quick and easy projects. I love the name of it:
Quick Crafts for Sanity
. Perfect for busy moms that only have short spurts of time to get crafty. Check it out.
And just a heads up: it might be a few days before you hear from me. I'm going to be immersed in this book for the next few days.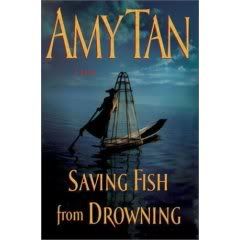 Has anyone else read it? I'm so far behind on my pleasure reading, it's ridiculous. I haven't even read the last Harry Potter book yet. It seems the only time I have for myself is in the evenings after the kids are in bed. Usually if I start reading something more than a magazine, I start drifting off to sleep. So, we'll see how this goes. I'm a big fan of Amy Tan, so I think this is going to work. Oh yeah, and I got it from the library, so I have a return deadline....even more motivating. Heh heh.