I'm waiting for my fabric order for the
blockswap
. I placed it on Friday and they said it would be 7 - 10 days before I receive it. OY! I'm ready to start on it now. Seeing Miss Rebecca over at
3 peas
whipping out those
blocks
is giving me the shakes. I want my fabric and I want it now!!! So yeah, I've got some stuff going on, but it's mostly it's just busy work until I get my material.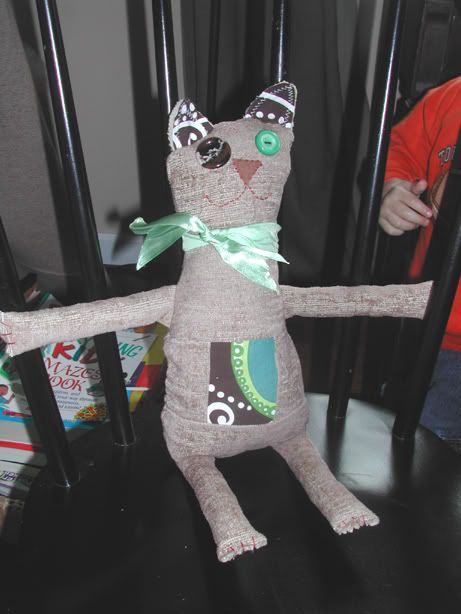 This is what I worked on this weekend. I saw the cute ones that Beki made and decided that it was time to get my act together and make the pattern enlargement on the photocopy machine. (OK, actually I made my hubby take the book to his office to do it--heh, heh). It's Steve from the (what else?) Denyse Schmidt Quilts book. I made him from a old cushion cover, so he's nice and hefty. Recognize the fabric on his tum and ears? I've gotten a lot of mileage out of that Crate and Barrel napkin. Alas, that is the end of it.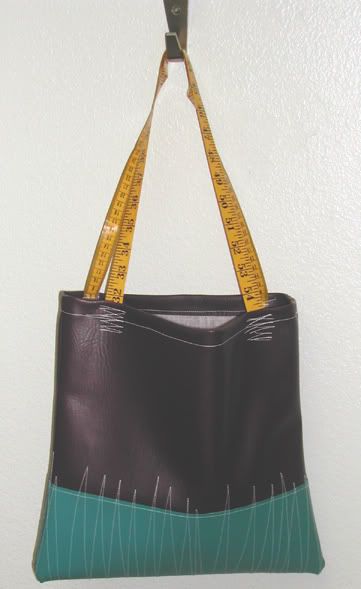 And look at this fun bag I received from my friend Kendra for my birthday. It's the vinyl tote bag from the same book. She made one for herself a few months ago--you can see it here. Anyway, I was really touched to receive it, considering that she and her family are just getting settled into their new house and are busy with all that that entails. And also, she's just getting over her bout of morning sickness, so who's in the mood to craft when you're going through that???? Thanks Kendra! I LOVE IT!!!

In the next few days I'll try to get a tutorial up of the tissue holders.