I woke up this morning to my little guys excitedly climbing into my bed. They sang happy birthday to me in their croaky morning voices and helped me open my presents. Look at all my loot: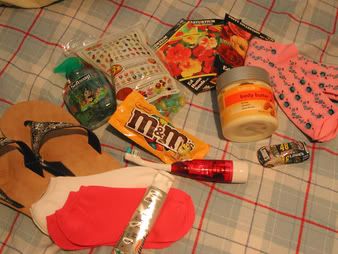 Isn't that fun? Dave took Davey to Fred Meyer yesterday to get all my presents. From what I hear, Davey was super excited to get stuff for mommy, and at the same time very decisive about what he knew mommy would want--lots of pink sparkly stuff (note the toothpaste, toothbrush, sparkly flip flops and hot pink socks). Not pictured are a monster truck that has already been absorbed into the rest of the toys downstairs and another pair of flip flops that the boys took turns wearing around the house this morning. Also, hubby got me a gift card to Gene Juarez, and is taking me out for dinner tonight. Hee hee.
I'm so blessed. Not because of the stuff (obviously), but because God has given me the most precious family. A loving, generous, and thoughtful husband, who, as it turns out, is a fabulous father as well. Two--soon to be three--boys who love to snuggle, hug, kiss, and share their love with me everyday. Thirty-six is shaping up to be pretty good already.