Wow. Can't believe it's been 2 weeks since my last post. It was pretty crazy around here with my hubby off on his business trip. He's back, thank goodness, but it was hard being a pregnant single mom of two. Thankfully my mom came to visit me from California to keep me sane. We did get some little crafts done. Not as much in the good old days when we used to craft for hours in the afternoons when baby Davey was asleep. Davey's napping days are long behind us, and now for some reason, mom and I have different energy schedules. I usually get my crafting done at night after the boys are in bed--that's when I feel like I have freedom; whereas my mom gets her second wind in the afternoon and is all tuckered out by the end of the day. Oh well... it was great having her here, and I've been having pangs of sadness now that she is on her way back home. :(
I need to get my act together and start taking some pictures of things I've made recently. Unfortunately it is so overcast here it almost looks like evening. I'll wait until the light is better. In the meantime, here is a pic of the shoes I bought a few weeks ago to bring me cheer during these dark dismal days. I absolutely love Keens. They make my feet happy. I developed heel spurs from walking around barefoot on our wood floors, so I wear these all day long--esp. in the house. Hmmm...what a lovely bit of trivia.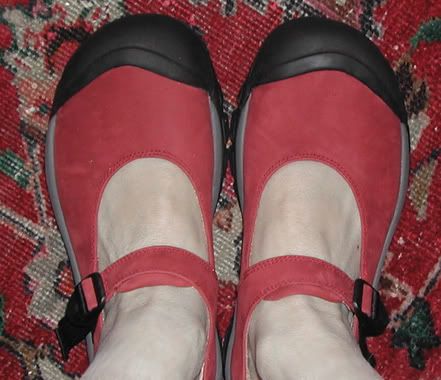 Now that life is getting back to normal, I'm looking forward to catching up with all my bloggie friends. Sorry for the lack of commenting lately. Can't wait to see what everyone has been up to!