I've decided to be brave and try knitting a real sweater. Up until now I've stuck to pretty much rectangular things: dishcloths, scarves, a couple of bags with very minor shaping. Probably the most complex things I've knitted have been (don't laugh) baby booties and and a few of these lovely little egg warmer/barbie doll sweaters: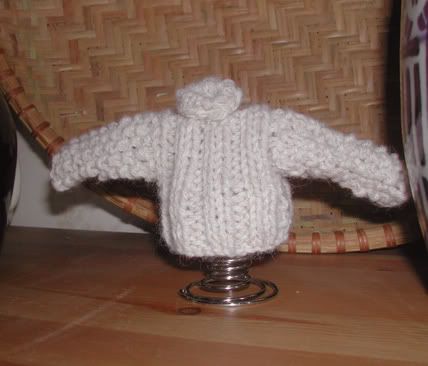 We had some neighbor friends over for dinner a few weeks ago. She saw my egg warmers and then we started talking about knitting. Turns out her grandmother taught her how to knit when she was a child and she has knitted sweaters without patterns ever since!!!! Huh? She gave me this huge pep talk and told me that I already know everything I need to make a simple sweater. So, by golly, I'm gonna do it. With some help/handholding from www.knittinghelp.com, I'm gonna make this simple raglan sweater from Debbie Bliss's The Baby Knits Book.
I'm almost done, actually. I've completed the front, back and one of the sleeves. So one more sleeve to go, and then I can sew it all up, and I'll be bonafide! By the way, I wish I could say that I was using the Debbie Bliss Cashmerino Aran called for in the book, but I chickened out and went for Lion Brand Wool-Ease instead, thinking that I don't want to waste good pricey yarn on a novice such as myself in case this doesn't turn out well. I guess this little sweater is going to be my rough draft--i.e. wool ease = dressmaker's muslin, right?