I was over at
3peas
the other day, and she was lamenting how large her fabric stash has become. All I could think was, how lucky! Look at all that gorgeous fabric and how nicely it's rolled up and organized. Anyway, it got me thinking how I'm always waiting too long to buy fabric I like...waiting until I finish a project that's already underway. Waiting until I know exactly what it is I want to make with it. Often I've waited so long that the fabric I want is no longer available. Grrrrr. Then I just get all irritated with myself. So, I've made a decision. No more waiting. When it comes to fabric, I'm sort of indecisive. I often have to talk myself into buying it. I seldom see fabric that makes me excited. So I've decided when I see it, I should just get it.
So here's what's come in the mail in the last few days: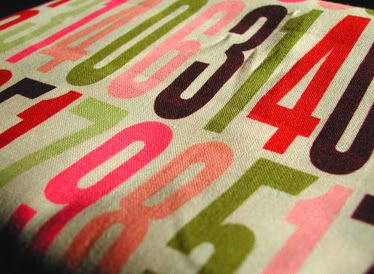 I don't have anything specific in mind for it yet, but I have 2 yards of it, and by golly, I'm gonna do something fun with this fabulous funky fabric. And the best part? After I purchased it, it was immediately gone from the website. Could it be that I got the last 2 yards? Yippeee!
And here's the fabric for the quilt that I'll be making for my new nephew: