Amanda from
Soulemama
has started a flickr group called
Corners of My House
. Her
post today
really struck a chord with me. We moved out of our beautiful 1936 home 3 years ago. We'd been there for four years and by the time we moved we had restored/remodeled every single room in that house. New breezeway, new solarium, new flooring, new wallpaper, new paint, new windows, new drywall, new kitchen, new garder...our hearts and souls were tied up in that house...it broke my heart when moved away. And now, sometimes I think to myself what an idiot I was that I didn't take decent pictures of it. I have plenty of cat pictures and Davey pictures, but it's always, "hey look at the mantle in the background, wasn't that pretty?" Argh.
So, our house now is decent. I'm not as crazy about it as I was our first one...but if we ever had to move, I'd miss it. So, yes, I'm going to document it. Warts and all. I don't want to take just pictures of it when it's neat. I want to remember what it looked like when I was too tired from chasing after kids all day to clean it up (which, unfortunately these days is most of the time.) This is a time in my life that is passing too quickly. And though there are days when I wish my house looked like a magazine cover, I wouldn't want to miss these days at all.
Here's the "corner" where I spend most of my time.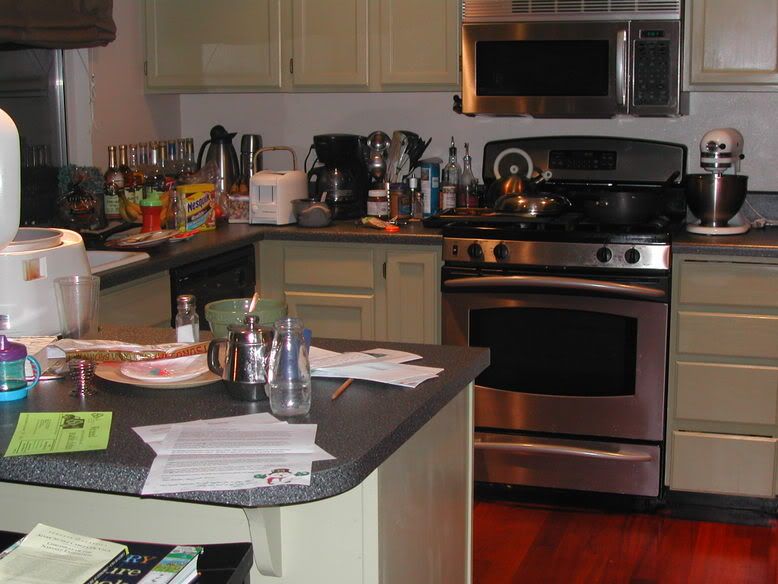 Here's what it looks like when the guest are coming over: