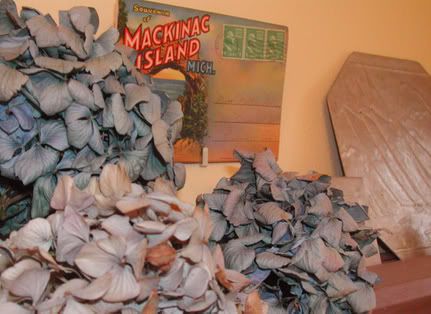 We are big fans of Mackinac Island, MI...we got married there 12.5 years ago. If you haven't heard of it, let me tell you, it is the most beautiful, romantic spot on the planet. If you are into Victorian architecture, horse drawn carriages, gorgeous gardening, a sense of US history, nature trails, and life on the Great Lakes, this is THE place for you!
My house is anything but Victorian. My decorating style tends toward, um, well, it would be sort of minimalist, except that we have so much cr*p. So, my downstairs powder room is the one spot in the house that is a little on the frilly side. It is in the theme of Mackinac Island. Those hydrangeas are from my garden, along with a set of vintage Mack. Island postcards and some depression era hand hammered aluminum next to it.
See other Corner of MyHome pix
here
.