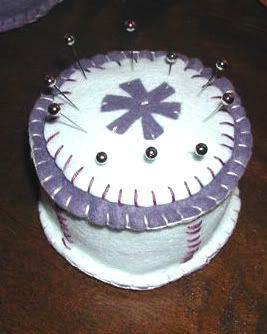 I've been inspired lately by all the cute pincushions I've been seeing all over, especially the ones at
Bella Dia
and
yvestown
. So I decided to give it a go! These are made from felt and stuffed with batting and a little rice to weigh them down. I've been really into embroidery lately. I'm just a beginner, and you can tell, but that suits me fine. When it comes to embroidery I'm all about rustic imperfection anyway. These will be going to crafty girlfriends for Christmas. I have a couple more to make and I'll be all set. Also, of course, I'll need one for myself.
And, since I'm on such a big felt kick right now, I've been really having fun exploring and swooning over the fabulous stockings and felt cushions at
Hable Construction.
They are brilliant over there. I just might have to make knock-offs of their stuff too.